Robert Del Naja: Born 1966
Robert Del Naja is an artist who works across many media, although not always under the same name. His graffiti art background has expanded to encompass painting and computer generated imagery. Whether audio or visual, all of Del Naja's output expresses the alienation within contemporary society. But he is perhaps best known as '3D', a member of the deeply influential group Massive Attack. As a member of the British group, Robert Del Naja has made some of the most innovative and influential dance music of the last decade, including the seminal 1991 album Blue Lines, which regularly heads critics' 'best album' lists and is widely credited with revitalizing British dance music.
Massive Attack began as an offshoot of the Bristol collective The Wild Bunch: a confluence of hip-hop DJs, sound-system operators and graffiti artists partly inspired by, and not dissimilar to, the late 70s New York hip-hop scene that spawned Jean-Michel Basquiat. A key member of this latter-day grouping, Robert Del Naja was a young spray-can artist before becoming a rapper, musician and producer. His art was featured in an 80s television documentary and in an exhibition of graffiti art at Bristol's Arnolfini Gallery (in which Del Naja sprayed directly onto the gallery walls, and the nascent Wild Bunch recorded a performance for the gallery's archives.) Indeed, Massive Attack was formed following a visit to London by the American Transatlantic Graffiti Foundation, who were over to take part in a multimedia exhibition. This 'multimedia' aspect of Massive Attack is often forgotten by the music press, but it is at the root of the group's formation; their original conceptual blueprint was to 'create music around art'.
Besides being a member of a best-selling and critically acclaimed musical outfit, Del Naja has been painting for over 15 years, and his work has featured in magazines and on record sleeves - both by Massive Attack and others. Like the group's third album Mezzanine, his recent artwork is informed by the discomfort and alienation he has experienced while touring. A few works reference Del Naja's graffiti past, some evoke perpetual motifs of urban life - such as plugholes and heating coils - while others feature mutated versions of Eurochild, the iconic and smoothly rounded figure that adorned the album Protection.
FITTING IN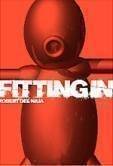 Although he has had several exhibitions, Del Naja did resist selling his art commercially, preferring to 'donate' his work to friends and collaborators. For eyestorm in 2000, however, Del Naja produced an expensive limited-edition hardback book showcasing some of the works he has produced over the last five years, including new and never-before-seen pieces. Only 50 copies of Fitting In where available, each signed by the artist, with all proceeds going to the Red Cross.
Robert Del Naja's painting and graphic design work have represented the music of his band for over a decade, from the symbolic cover art of Blue Lines and Protection to his collaborative work with Tom Hingston and photographer Nick Knight dramatically realised on mezzanine and 100thwindow. Under his tag 3D was a central figure in the Bristolian graffiti movement that would eventually spawn Banksy. Like his music, 3D's art is both modern and grounded, challenging and beautiful, industrial and ethnic. The conscious elements of the pieces are a reminder thatMassive Attack were outspoken on social and international issues long before Michael Moore's populist documentaries gave this generation a pass to question the establishment. Selling on Pictures On Walls was the first time 3D's extensive body of work was available to a wider audience than a few people in Bristol and the music industry.
3D loves his cider . A longtime regular at noted Bristol cider pubs like Cotham Porter Stores. As well as the Wurzels [God Fathers of the Bristol sound], local punks Chaos Uk did a wicked tune about this stuff called 'Cider I up landlord. Incidently, Mr Del Naja designed an album sleeve for that lot.
WAR PAINT