15th December 2001 - Academy, Bristol, England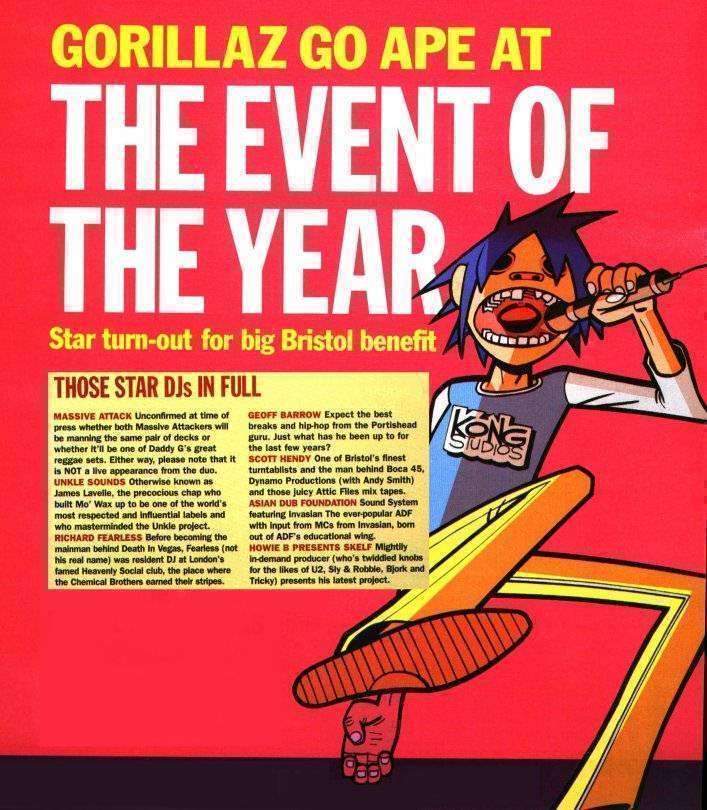 Massive Attack are having a Christmas Party at brand new Bristol club 'The Rock' and have invited some of the coolest DJs around to play: Richard Fearless from Death in Vegas, James Lavelle and, last but definitely not least, Liam Howlett. No surprise then that I had to go there, and here's my report from this cool event at The Rock. Punctually around 10pm we arrive at the club in Bristol's City Centre. Thankfully we've got advance tickets, as the queue of the people fighting for the last few remaining tickets on the door is huge. We get in quite quickly and on the first view already I am quite impressed of The Rock, which seems to be a quite big club. There is one main room and some small bars in other rooms plus a little chill out area. The main room is large. There's a stage for the DJ and big standing area plus a balcony.
The first DJ on is Richard Fearless. It's a bit a shame he is on so early because usually I think his DJ sets are quite cool, but now there's hardly anyone in the club yet and there's just 2 people actually dancing. We're having a few drinks and you notice that prices, compared to London, aren't that high.
It's 11 o'clock and the club has become more crowded now. People are dancing to Richard Fearless' DJ set now as he starts to play what is some kind of a regular at his DJ sets: Donna Summers 'I feel love' which goes down very well with the crowd. Meanwhile also spotted in the club are Massive Attack's Rob Del Naja aka 3D and ex-Prodigy dancer Leeroy Thornhill. Some of 3D's paintings from his limited edition book 'Fitting In' are displayed all over the club and behind the DJ stage.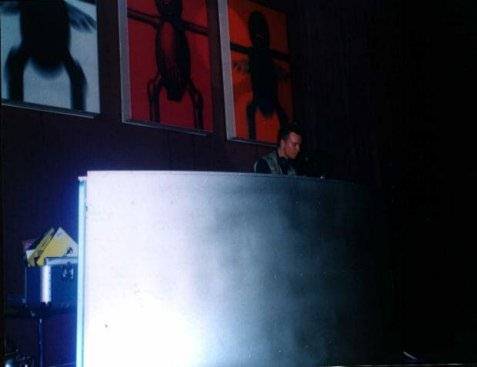 At midnight then we can see Liam Howlett joining Richard Fearless behind the decks, which of course indicates his set is going to start soon. We are heading downstairs now nearer the front and at 0.15 Liam starts his set with the Rage Against The Machine track 'War within a breath' like at Fabric in July. People are cheering as he comes on and everyone is dancing. What a nice change after the rather lame audience reaction at his DJ set at the Madonna gig 2 weeks ago! Pretty soon now 'I get wrecked' by Tim Dog and KRS One gets played, a track also on the Dirtchamber sessions DJ album. The cool thing about The Rock is that there is actually plenty of room to dance, very unlike for example at the Fabric where you sometimes get the feeling they just want to break their own record of 'how many more people can we fit into the club tonight'. And also of course very unlike at the Madonna gig where people would look at you as if you were an alien if you danced to the music that this 'invisible DJ' (quote music365.com) played. Liam continues the set and one of the next tunes he plays is another regular from his sets: 'Welcome to the Terrordrome' by Public Enemy and soon afterwards the Chemical Brothers remix of Swastika Eyes by Primal Scream, which we have heard already a year back at some of his DJ sets. Now the whole audience is dancing, cheering and it's just all great fun. At this point you also realise how wrong all the people are who say that Liam is just worth seeing as DJ because he is in The Prodigy. Those people should maybe try to attend one of his sets once because there is more to it than just a Prodigy member on stage playing a few records. Liam's set basically completely rocks the place. I doubt everyone in the venue is a die-hard Prodigy fan and came just to see 'Liam Prodigy' but still as soon as Liam started the set the whole place was buzzing, jumping and cheering to his set. I think that speaks for itself and proves he is a quality DJ. And the quality DJ plays some more quality tracks, like Medicine's 'I'm sick' and as yet another highlight 'The Mexican' by Babe Ruth. As in every club there's a few weirdos around. The guy next to me has suddenly the urge to make a salto on the stage and the security people obviously aren't so happy about this action. Also there's ProCON member Spence wearing a 'white skull' shirt, obviously as a parody to Liam who has been seen wearing 'skull' shirts throughout the last 2 years almost constantly (not tonight though). ;) Another regular track from Liam's DJ sets gets played: Breakin Bells by Ta La Rock plus Rock the House by the B-Boys. Also there's bits from Mr. Oizo's 'Analog Worms Attack'. Is Liam some kind of a secret Mr Oizo fan then? Remember the Flat Eric stickers on his keyboards at the most 'recent' Prodigy gigs ;). The Breakbeat mix of Bugman by Blur has also become a regular in Liam's DJ sets and also tonight it gets played and goes down very well. As we're all buzzing to this track, Liam comes in with the next one, ODB's 'I got your money' which doesn't really get the greatest response. It's not a bad track, it just doesn't really fit at this very moment. The set goes on with yet another Rn'B style track but very soon Liam goes back to usual and plays the amazing Rainforest Mix of Moby's rave classic 'Go'. Rocking! Now I am pretty sure he actually plays 'I get wrecked' by Tim Dog & KRS One for the second time tonight and also throughout the set at two occasions he drops the 'Now Hear Dis' sample in. My search for this sample source has brought me to the conclusion that it was used in way too many tracks which makes it almost impossible to track down. Other tracks played during the set include Westbam's 'Alarmclock', DJ Roughneck - Breakdown, Noreaga 'Superthug', Blackalicious 'Alphabet aerobics' and Beastie Boys 'Stand Together'. Towards 2am James Lavelle joins Liam behind the decks and we know Liam's set is going to end soon. I am almost sure now that he will round off this fantastic set with a Sex Pistols track, as he did so many times and I really hope he will. But, it unfortunately doesn't happen. While Chemical Beats by the Chemical Brothers is playing, James Lavelle takes over the decks and it seems as that was it with Liam's set now. People are applauding Liam as he is smoking another cigarette and about to leave and some guy in front of me even manages to get his picture taken with Liam which is a very nice gesture of Liam that probably made the day for this guy.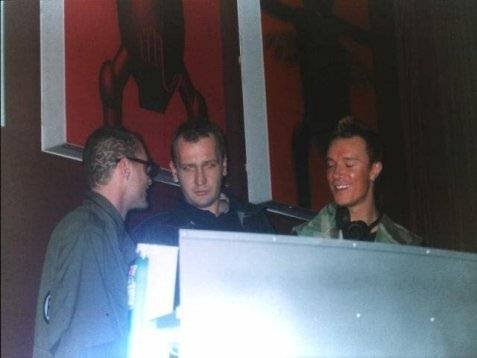 Now Liam leaves and James Lavelle takes over the room with a cool set, playing mainly breakbeat stuff. At 4am he finishes his set with a brilliant 'Unfinished Sympathy' by Massive Attack. The lights go on and way too early this party is over. If there was a perfect night out then the Massive Attack party at The Rock really came close to it. A brilliant set by Liam Howlett, accompanied by sets from Richard Fearless and James Lavelle, all at a brilliant club, what do you want more?
See you all at Resolution ...

review by neko
pictures by Spencer