Unique 3 from (The Face November 1995)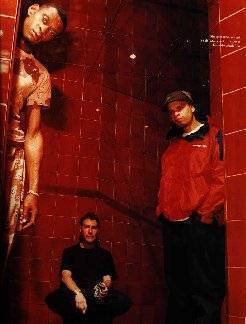 approaching a million, Massive Attack are going seriously global. They have recorded a love song with Madonna, Tina Turner wants to cover "Unfinished Sympathy" and they've turned their once-stilted stage show into a live triumph. Yet at home it is those who came after them - Tricky, Portishead and trip hop — that hold the headlines. And now they've got the power. Massive Attack have some scores to settle.

While two inflatable tubbies holding cutlery float above the stage and people think of Pink Floyd and flying pigs, and as 1,500 Italians crowd the staggered concrete steps of a club in Milan called Rolling Stone, gazing at the flickering TV screens and the curtains of camouflage netting, a figure steps forward through the gloom to stand behind two decks.
A record in each hand, Mushroom raises his arms in the air in gladiatorial triumph. Lights flash, smoke billows and the crowd roars.
Massive Attack are in the house.
Mushroom is joined by 3D, Daddy G, Horace Andy and - gulp - a band. You know, guitars and stuff. Live instruments. It's all a bit - to be read with a pejorative sneer - rock. It will sound fantastic.
Rewind. This time last year Massive Attack were preparing to take the just-released "Protection" out for the first time, with a show at an old-time ballroom in Kilburn, north London, called the Galtymore. This was not a "gig" but an "installation".
Daddy G (a year ago): It'd be wrong for us to play as a band. That's not what we're about. We're studio-based.
Me: What would you rather be doing?
Daddy G: Sitting in, watching TV. And watching the record sell.
Fast forward. Massive Attack have now been touring, on and off, since April. America, Canada, Australia, New Zealand, Europe. Over 60 shows. Whole days and whole tents to themselves at the summer's Glastonbury and T In The Park festivals. "Protection" has sold somewere between 750,000 and a million copies.
Me (at our second meeting, three weeks ago): How has the show changed since last year?
3D (without breathing): Going out live, we just thought, well, that's not really how we set out. We didn't plan to be a live band. We knew that we were a sound system and we could fucking do it that way... What we've done over the year is basically discover owselves DoyouknowwhatImean?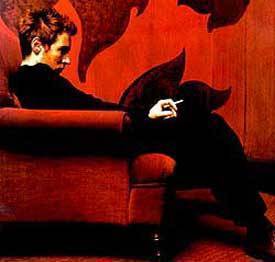 A year is a long time in British music. Especially this last year. A portion of the South-west of the UK has at last lived up to its proimse and stood up and shook up the country. Britpop be damned, Portishead and Tricky have bestrode the past year like colossi. One kept up the remarkable momentum of an album released in '94, pulling a few genius promotional stunts, setting off on a high-profile mixed-results tour, winning the Mercury Prize. The other has emerged as the face and voice of the year, a quick silver character who, from out of nowhere, has cut a lightning swathe across the pop culture landscape. As every headline has had it, this is Bristol Crearn, this is Avon Calling.
3D: Portishead have kept their heads down, we've always kept our heads down. But you know you can get into the papers, you've got the microphone in your hand, go blah blah blah blah, talk shit, slag everyone off and get press. Works every time. Everyone knows it. And Tricks has recreated his whole life and everything round it, he's become a new character, blown himself up, fucking cool. If he wants to do that, more power to him. But it's not our style. He's still the same geezer I knew, he's fucking cool. I don't give a fuck.
Daddy G: All Pinky's doing...
Me: Pinky? Is that your pet name for him?
Daddy G: Picky, 'cause he's always picking fault. All Picky's doing is running out the same old formula...
So, quietly, with none of the hype and hyperbole that has greeted the debut releases from the tape-op on "Blue Lines" and one of its key rappers and co-writers, Massive Attack have got on with the job of being smoulderingly seminal. Of being the band that gave not only Geoff Barrow and Tricky their breaks, but Shara Nelson and - now signed to Takin Loud - Nicolette, too. Of rehabilitating Tracey Thorn. Of being by far the most influential "dance" act in Britain. And their net is spreading. Tina Turner wants to cover "Ufinished Sympathy". The only time Mrs Calvin Klein has ever been seen showing any emotion in public was at Massive Attack's New York show. They've been on the Batman Forever soundtrack and sat in the Batmobile to boot. And now they've recorded a love song with Madonna.
3D: She's fucking sexy, I tell you. You see what the fuss is about when you meet her, she's sexy, she's got power. Women with power. Power and money. Smell of fear. Me: Is she genuinely a fan of Massive Attack?
3D: Loves it man. She fucks to "Blue Lines". On this tour, we get loads of girls at the front of the stage and if you chat to them they love having sex to our music. They love it, man.
Me: Do you?
3D: As soon as I hear my voice come in, my dick just wilts. Straight away, I've lost it.
The week of the release of the Marvin Gaye tribute album "Inner City Blues", containing the Massive Madonna collaboration "I Want You", Massive Attack are performing live in Italy.
Today is Sunday, the day before the show at Rolling Stone, a day off in the small town of Domodossola, a couple of hours outside Milan. They've been touring for six months, promoting for a year, but spirits are high.
3D is hyper, largely because he's in his beloved Italy (courtesy of his Neapolitan father, 3D's surname is Del Naja). In a weird Seventies-timewarp hotel just off the town square, Italian football is on television and beer is on the table and 3D couldn't be happier. He talks feverishly about his team, Napoli, and how he was at their first home game of the season, DAT in hand, recording the mad drumming on the terraces. In another life 3D would be your archetypal dodgy geezer down the market. Lovely pair of nylons and a set of crockery? 3D's your man. He could also drink for Italy.
Daddy G bounds in, a - moving from archetypes to stereotypes - genuine genial giant. The man from Virgin records, Italy, tells him that, since they were here pressing flesh in April, sales of "Protection" have doubled from 9,000 to 18,000.
"How does that fit in with Virgin here? 'Cause I think that sounds like shit," G says with customary disarming frankness. The man from Virgin tells him he thinks that's a result. Portishead, he thinks, have only sold 13,000.
"Cor!" bursts Daddy G, "even you from Virgin are comparing us to Portishead. We can't get away from those fuckers!"
"Hey," says D, "where's the strange member of the band?"
"The estranged member?" laughs G. No one knows where the non-drinking, non-smoking, no-dairy-products Mushroom is. Mostly silent and expressionless, he is the straight-edge Beats Scientist in Massive Attack. Little rouses or riles him. At 27 the youngest of the three, the boyish DJ arouses emotions of fierce protectiveness in his cohorts. All of which makes his dramatic rock'n'roll entrance at the next night's show even stranger.
The Madonna version of "I Want You" is the third stab Massive Attack have had at the song. Last year Motown approached Massive Attack, asking them to pick a track from Gaye's catalogue for a tribute album and suggesting a collaboration with Chaka Khan. A backing track was duly recorded in Bristol.
"I phoned Chaka Khan up and she was dissing me big time." 3D shakes his head. "We sent about eight tapes all round the world, and she was fucking up her tree. Fuck this, so rude. We thought, fuck it. She didn't believe in us, she thought we were fucking suckers."
Daddy G: She thought we were a bunch of cunts from Bristol.
Massive Attack then suggested Aaron Neville and recorded another version. "Aaron Neville is a brilliant singer, a brilliant artist, but it was all lawyers, like it was American corporate crime going on." 3D shakes his head some more.
Enter Nellee Hooper. Working with Madonna - "she's Madge to the Massive Attack boys!" - on her last album, Hooper knew of his former Wild Bunch colleagues' travails and suggested a collaboration. Surprisingly enough, recording with Madonna involved less red tape and less prima donna behaviour than either previous option.
"She was fucking cool," 3D rhapsodises. "She sang it really well, she had it sorted out, you could tell she knew the song, she'd really worked fucking hard on it. Fucking good."
He's right. Muted and undemonstrative yet forceful and compelling, this burning-blue soul sheathed in red-hot love is classic Massive Attack, underpinned by a lush string score and topped off with Madonna's best vocal in years. Madge was impressed enough to open her new compilation album of ballads, "Something To Remember", with the track.
Me: What does Madonna get out of working with Massive Attack?
3D: Cult status! She gets cred, we get paid! We could buy two houses - we could buy a fucking castle with the money we'll make!
Daddy G: Yeah, we're rich now! But we don't want to make it in the States on that, we want to make it there on Massive Attack material...
3D: I saw Tricky the other day, he was going, "Why d'you work with Madonna, it's bollocks, blah blah blah?" I goes, "What you fucking talking about, you work with every pop star in London and call it cool." Why not go straight to the top and work with one of the most enigmatic superstars of our time? It's a short life...
The Milan show, like the collaborations, is a beautiful collision. I The encore incarnation of "Karmacoma" sees Massive Attack joined onstage by Rino, singer with Italian band Alma Megretta and one of 3D's Naples posse. His Neapolitan lyrics and keening wail, like the call of a muezzin from a top a minaret, chime effortlessly with the eerie dub groove of the original.
Yet as the tour and year of promotion ends, for Massive Attack it's time to think and move on. They'd like to release their third album next year, but having enjoyed themselves on the European festival circuit in the summer, want to head out again next summer, which would eat significant chunks out of available recording time.
Then there are plans for a Massive Attack record label.
3D: It gets a bit boring, making new relationships, meeting people and watching them go off and do their own album every time. Like some bizarre fucking diving board. We want to make some money off of someone else for a change.
Daddy G: The whole thing is a real piss-off at the end of the day. If we'd had out wits about us we'd have tied certain people in.
Me: Shara would have been on your label.
3D: Shara's new album wouldn't have come out on our label, I tell you!
Me: Portishead, too, could have been on Massive Attack Records.
Daddy G: This is the whole thing about it. Geoff was begging to go on our label from day one. Fucking never happened. I don't know why.
3D: Geoffs a free spirit. Fair play to him, what he's done is fucking brilliant, it's good for him. Geoffs one of these guys who had loads of ideas and was sat there waiting to do something, always frustrated. Cameron McVey, Neneh Cherry's manager and husband fucking tapped his talent for Neneh's album. But that's no diss to Neneh, 'cause Neneh's fucking great.
At one point Massive were going to call their new label Melancholic. Not now. It doesn't seem to fit any more. This Mild Bunch, the secretive trio whose public image was a fire-hazard symbol, have stepped out of the shadows. After a year in which those they gave a leg-up have done all the talking and all the walking, it's payback time.
Here's a typically indignant, giddy spiel from 3D: "We spent five years being fucking humble, right, and the fact is we know that all the music we did in the past paves the way for everyone like fuck-ing Leftfield, Portishead, Tricky... Musically everything we stand for, people have taken the influence and done their own things, whether you're looking at Chemical Brothers, Leftfield, Mo' Wax, all that so-called trip hop shit..."
Me: Does the success of your peers increase the pressure?
Daddy G: No, not at all. I'm really glad about Tricky and Portishead because it lets us show everybody what Massive Attack are really about. 'Cause I kinda think that we originated this whole thing... In the next album we're really gonna state our name... We'll just be digging back in the old crates and...
3D:.. .Drinking beer! Toasting everyone as we go...
Some things, it seems, will never change. And then Mushroom mumbles something about "just making music" •
CRAIG McLEAN