Rizwan-Muazzam Qawwali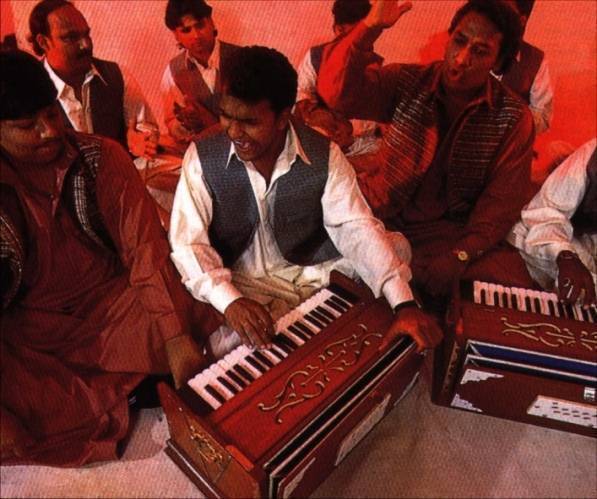 Origins
It was the energetic recordings and concerts of the late, great artist, Nusrat Fateh Ali Khan (1948-1997) which first introduced Qawwali music to Western audiences. His singing effortlessly transcended language and cultural barriers, and his spirit reached and moved people all over the world. Today, Qawwali is seen as one of the world's most passionate and vibrant forms of music.
Pakistan's fresh young ensemble, Rizwan-Muazzam Qawwali, though still in their teens, are already proving to be masters of this Sufi devotional music. The two young brothers who lead the group, Rizwan Mujahid Ali Khan and Muazzam Mujahid Ali Khan, have an impeccable musical pedigree - their grandfather was an uncle of Nusrat Fateh Ali Khan and personally taught Nusrat the art of Qawwali singing.
These nephews of Nusrat Fateh Ali Khan, then, come from a direct family line of Qawwali vocal music that spans over five centuries. Their inventive reinterpretations of spiritual love songs based upon classical Islamic and Sufi texts was first showcased in the UK in July 1998, at the WOMAD Festival in Reading, and received much critical acclaim.
The Music
Rizwan-Muazzam Qawwali is made up of two lead singers (Rizwan and Muazzam), five secondary singers leading the choral response and vigorous hand claps, two harmonium players and a tabla player. They perform in traditional Qawwali style - sitting on the ground rather than on seats - which they believe brings them closer to God. Last year, the intensity of their songs and stage performance led one commentator, only half-jokingly, to call them "the Qawwali Clash."
The original Qawwali repertoire of Farsi (Persian), Punjabi, and Braj Bhasha (an old form of Hindi) has given way in recent times to Urdu and Arabic. Romantic love is used as a metaphor for spiritual adoration and mystical enlightenment, drawing upon a rich vein of poetic imagery. It is not surprising, therefore, that Qawwali has become the staple of Bollywood film scores.
A song will usually begin with a slow instrumental vamp that introduces the melody. The lead singer then meanders in with the first line and establishes a call-and-response pattern. Phrases are repeated over and over again, punctuated by sudden and furious breaks of florid virtuoso singing by the leader. As the piece progresses the tempo and volume are gradually increased, elevating the listeners to higher and higher states of entrancement. Traditionally, women are forbidden to sing Qawwali.
'Sacrifice to Love', is Rizwan-Muazzam Qawwali's debut album on Real World Records. Produced by John Leckie, it features four of their own compositions: a 'hamd' - a song in praise of Allah; a 'manqabat' - a song in praise of a great Sufi saint; a 'naat' - a song in praise of Prophet Mohammed; and a 'ghazal' - a love song with contemporary lyrics. The group's passion for this venerable and transcendent genre is unmistakeable.
History
Rizwan Mujahid Ali Khan and Muazzam Mujahid Ali Khan are nephews of the late and great Nusrat Fateh Ali Khan. Their father Mujahid Mubarak Ali Khan was the deputy leader of Nusrat Fateh Ali Khan's group for more than a decade. He was forced to retire from the group in 1991 due to ill health.
Around this time, Rizwan and Muazzam were secondary school students in Pakistan. Fanatical about the art of Qawwali, they regularly entered competitions at their school. Upto this point, their father had never taught them anything regarding music since he knew how difficult an undertaking it was. He was also worried that they would not be upto the family standard. So he encouraged them to focus on their studies.
Rizwan and Mauzzam's elder brother, M.Aurangzaib had graduated and was working for an American firm in Pakistan. In addition to his academia, he was also a great cricketer and was due to be selected for the national Pakistan team. He was also anxious to perform Qawwali with his younger brothers. For the record, Rizwan and Mauzzam are also very good cricket players.
In the 1992/3 term, the school was hosting the Distrct Qawwali Championships. Rizwan and Mauzzam were head and shoulders above the competition, and hence brought the Trophy home. When the fact that Mujahid's sons had won the Championships hit the newspapers, people would visit to congradulate Mujahid. Upto this point, the public had been unaware of their singing abilities. It was at this point the public would request the boys to perform at the 'Baba Lasoori Shah' shrine in Faisalabad. Their father was worried that they would not be upto standard at such a prestigious 'venue'. After repeated requests from the public, Mujahid gave in and allowed the singers to perform at the Shrine.
Mujahid attended the performance and sat apprehensively in the audience. Once they started, their father was astonished at their skills in the art and their potenial. He was so impressed that he began to teach them what he himself had been taught from Nusrat Fateh Ali Khan's uncle, Ustad Mubarak Ali Khan. Mujahid taught his sons for two years before he himself started performing with them. He now felt they were upto an acceptable standard. Unfortunately Mujahid passed away in March 1996 after years of ill health. It was at this point Nusrat Fateh Ali Khan decided to teach the singers. Nusrat himself was very impressed by the stamina and potential Rizwan and Muazzam had. An official ceremony was held for Rizwan and Mauzzam to become the disciples of Nurat Fateh Ali Khan. The singers were taught the art of Qawwali from Nusrat, who was undisputably the greatest living exponent of the art.
Unfortunatley, Nusrat's untimely death in August 1997 meant Rizwan and Muazzam were very much on their own. In the short time they had spent as Nusrat's disciples, they had improved dramatically. They are now under the supervision of their International Manager Rashid Ahmed Din, who was also Nusrat Fateh Ali Khan's Manager for more than 12 years.